Unfortunate Setback for Giolito
Started by
Umpete
,
Mar 08 2012 11:00 AM
Posted 08 March 2012 - 11:00 AM
---
Posted 08 March 2012 - 12:10 PM
I sat with Lucas at last Friday's Bruins game, and did his team's game the next morning (he didn't pitch).
He is such a wonderful kid, it's hard to even describe. After visiting with him for that whole game, he warmly greeted me when I came onto the field the next morning, and volunteered to run me a Gatorade bottle a couple of times during the game and have couple of nice visits with me in right field.
I am absolutely sick about this whole thing. He is such a wonderful kid, and deserves the monumental success that hopefully still awaits him. It was shaping up as a dream season for him and his club. Largely because of Lucas, his club was ranked No. 4 in the country. Every time they play, there are dozens of scouts, and reporters and photographers from every major outlet.
I have four of their games, including a Tuesday plate (when Lucas normally pitches) and a doubleheader at Jackie Robinson Stadium, where the Bruins play. The doubleheader was to feature Lucas, and left-hander Max Fried, the other Baseball America highly ranked prospect.
Let's all hope that Lucas comes back strong, and still has a chance to help his team fulfill its promise.
Here's Lucas in his Bruins cap in little boy mode at last Friday's UCLA game (I cropped out his girlfriend... I'm not comfortable posting her picture):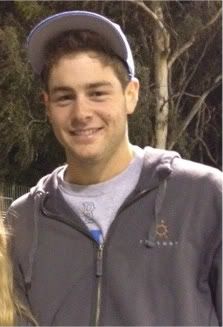 What a kid!
"Let's face it: Umpiring is not an easy or happy way to make a living. In the abuse they suffer, and the pay they get for it, you see an imbalance that can only be explained by their need to stay close to a game they can't resist."
̶ Bob Uecker
---
---
0 user(s) are reading this topic
0 members, 0 guests, 0 anonymous users